Who is online?
In total there are
12
users online :: 0 Registered, 0 Hidden and 12 Guests :: 2 Bots
None
Most users ever online was
112
on Wed Feb 26, 2014 8:26 pm
Top posting users this week
Timezones
Pacific Time Eastern Standard Time Mountain Time Central Time Zone South Africa United Kingdom Atlantic Time
Statistics
We have
586
registered users
The newest registered user is
raydio
Our users have posted a total of
288415
messages in
5144
subjects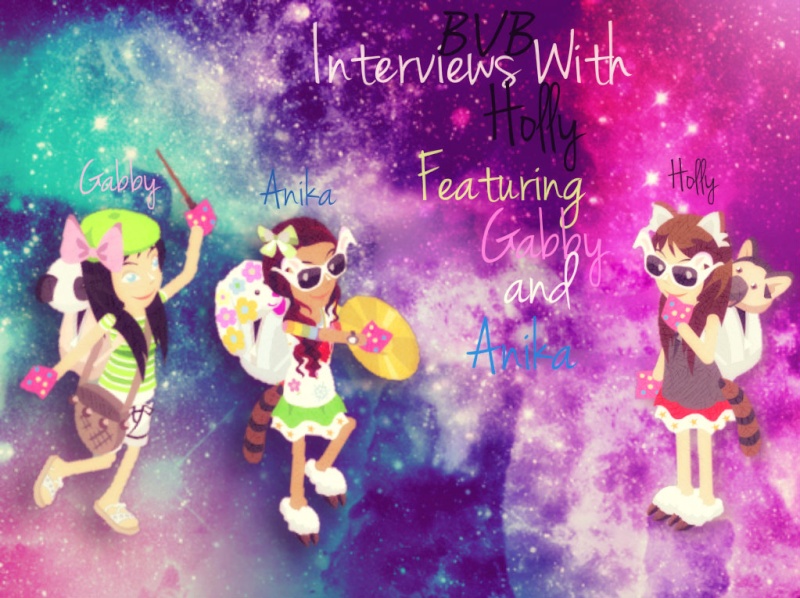 Hey Welcome to My Interviews <33 This week I'll be doing the lovely Gabby and amazing Anika!<333 This is the first of my interviews and I hope you enjoy as I've decided to post these interviews on seperate threads xD
Gabby's Interview:
What is your favourite part of BVB? 
I really like the chatbox! We tend to get crazy in there, and I love having fun with everyone else who is online.
Favourite rare item on Bearville? 
I'd have to say bunny. Bunny is pretty and you can wear them with anything.
How long have you been making your amazing videos? 
Well, I started way back in 2012, and I was able to make videos until May-June of 2013, but right after that, I lost my editing program. But then I recently got it back and I can't wait to make you guys videos<3
Any shoutouts? 
Members: Just you guys being here helps the forum run. You guys are amazing. Admins: Thanks for working so hard on the forum! 
Ty Holly for interviewing me<33
Anika's Interview:
How is it like to own such an amazing and active forum? 
Aww it is honestly such an honor to just be a part of such a forum. It's become such a community and every single person on here has contributed. Like all forums we have a diverse past and we've faced the worst of hindrances but we've managed to overcome that. BVB is like a family to me, the staff are immaculate and the members are just perfection. I feel like there is a lot of harmony between us. It's just a privilege to have all the preceding work finally pay off. BVB is one of those distinctive forums where everyone is so welcoming and entertaining. It's unusual to find a forum so united! BVB will do great things in the future, I'm so sure of it, aha! 
Why did you decide to create such an amazing forum, what made you do it?
There was another forum myself and the original founders were on. We all agreed that this old dying forum wasn't getting anywhere hence we created BVB. The aim of BVB was to be a more liberated and happier forum. We wanted a site that members could appreciate and have fun on. BVB is unquestionably a lot of fun and I adore coming on and speaking to members/friends c: Its very relaxed and the humor.. ohgoshhh xD I'll stop there c:
What is your favourite bear on Bearville and why?
I had to research this because I know nothing about bears tbqh LOL! xD I like the MLP bears, they are so cute but I only like them because the virtual version of them is sooo cute and the psi I just love xD
Is there going to be any staff applications or events on BVB?
Ooh I can't say much but… We have a few surprises planned especially for the Summer xD More will be enclosed later on in the year (: Wow we've had so many events, I think we need a break from having to plan them all ahaha c: There aren't any planned for the near future and we'll be possibly considering staff applications maybe at 300 members or if there are any empty slots in any roles! xD
Do you like being admin on such an amazing forum? Cx
Yes of course! It's superb! I've met so many interesting people over the way and I've finally found some sort of happiness on there c: To quote Lana Del Rey [ you know how much I love her] "I found happiness within people and the world". It's really quite remarkable having a forum that is so active and I really hope we can keep being active. I'm so grateful to every single member on there just for joining, it's been brilliant meeting all these magnificent people as part of BVB's journey and I'm sure BVB will soar to great lengths! xD
Any shoutouts? <333
This is already super long so I'll try to keep it short XD
Eleanor: I love you soo much! <3 You're my queen and I admire you massively. You are so fiesty and outrageous and we've had so many wonderful memories and I hope we can have loads more!
Harry: Where do I start? I've known you for so long and I love you so so much! C: You mean the world to me and its quite incredible seeing you happy because it makes me equally happy c: Your humor is wonderful and I wouldn't change you for anything! 
Samantha: You are so flawless and you always make me laugh<3 I'm so glad I've met you, you're like a sister and ilysm! 
Moona:Heyaa, I love you loads. I rarely tell you that lol idk why c: Anyway you are so honest and I love how straight you are to people c: You always make me laugh and are just asdghjkl perfection! You are too brilliant gahh xD
Adventure: I admire you so so much c: You've overcame a lot and you're still laughing. You are incredibly gutsy and stick to your beliefs [which I respect massivelyc:] Ily loadss<33 
Mariana: You are just so perfect c: Such a warm and kind person and you always crack me up with your funny comments c: Ily loads and your graphic talent sdfghjl;' I want your graphic talent xD
Holly: You are so wonderful and I loveeeeeeeeeeeeeeeee youuu<33 Your friends irl are missing out because you are so brilliant c: You are always there for me and you'll always be a shooting star in my eyes<3 ;D
Sadie: My Lana Buddyyy♥ You have great taste in music and I love you so much bby c: You are one of the kindest people I know and are so considerate c: You are always caring for others and I just lovee youuuuuuuuu xoxox
Nadia- You are truly amazing and such a kind and considerate person c: You such a good friend and I love you loadssssssss(:
I can't type anymoree sobsssss, everyone else: I love you all so much and you guys all mean so much to me, I'm just too tired to typee cries
I hope you guys enjoyed my interviews as next week I'll be interviewing Sammyy<333 Admins sorry if this doesn't fit the requirements, anything you want me to do feel free to ask xD <33 
Until Next Time- Holly <333
This is beyond cute, great job
Dedicated Member




0
322
325


Location

: Pacific Time


Warning

:



Aww this interview is so awesome! I really enjoyed reading this, Wonderful job holly! 
And anika thank you for the shout out! You're also a wonderful, amazing, and sweetest person ever, you deserve to always be happy and loveyouuu <33333333
Dedicated Member




0
978
996


Location

: Okay I will tell you a story of where my location is *aheeem* I live under a rock, the end.


Warning

:



Woah what an amazing interview Holly! I'm very impressed you did an amazing job and the graphic at the top is goregous c: tysm for your shoutout Anika ily<333
Elite Member




0
8187
12447


Location

: Manhattan's Upper East Side


Warning

:



Awww thank you so much for posting! xD I have fun answering those questions!<3 [x awwwh ily guys tooo<333
_________________
Rules · Staff List · Ribbon Wall · Affiliates
Founder Samantha




0
12166
1621


Warning

:



Omg Holly this was a great interview! You did a great job with it. And thanks to Anika for the shoutout, babe<33 I love you so much and you are everything to me. Always stay strong and happy. ;3
_________________
Founder Samantha




29
86403
79074


Location

: With Harry Styles, don't bother me ;-;


Warning

:



Aww tysm you guys for your beautiful support <33 It means a lot <33
Amazing interview!
Keep up the amazing work<333 ;]
Ultimate Member




0
3816
3855


Warning

:



Aw thank you so much Harry and Sadie <3

---
Permissions in this forum:
You
cannot
reply to topics in this forum